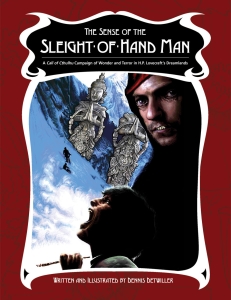 News: The playtest draft of Boiling Point is out. If you backed the Kickstarter, please check your messages to see how you can access it.
Synopsis: We finished a playthrough of Sense of the Sleight of Hand Man, a Call of Cthulhu campaign set in the Dreamlands, so like with every campaign we finish, this episode is a post-mortem of it. I discuss how I approached running the campaign and the players talk about what they got out of it. We also have shout outs and anecdotes.
Shout Outs
Song: Demented Dreamlands by Krytpics.
Podcast: Play in new window | Download (Duration: 1:22:49 — 56.9MB)
Subscribe: RSS