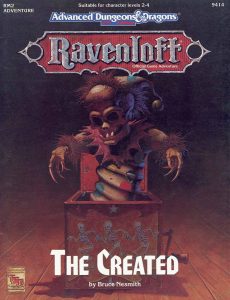 News: Check out Cody's Kickstarter, Lose Your Own Paradise, a multiple choice adventure novel!
Cody's back and we're examining an interesting Ravenloft scenario, The Created. It's about an evil puppet trying to murder all the adults in a village. Only a group of heroic adventurers can stop it! Cody and I review this scenario and talk through its unusual design.
If you like this episode, check out the RPPR Patreon and get access to many more episodes of RPPR After Hours.
Song: Alive after Death by John Carpenter
Podcast: Play in new window | Download (Duration: 1:13:53 — 51.0MB)
Subscribe: RSS