2012-04-16
Selling monsters door to door is hard work. Loosely inspired by an incident from the RPPR D&D campaign, The New World. This skit was entirely improvised. Special thanks to Nathan Shelton and Kevin Keppy for helping out!
Listen to the original 'who wants to buy an Otyugh' http://slangdesign.com/rppr/RPPR-Otyughs.mp3
I will be out of town for the next few weeks. I'll be blogging about my trip to China at slangdesign.com. I'll post photos, videos and observations about my experiences overseas.
2010-05-19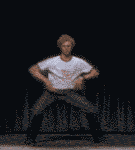 RPPR regular Cody reads 3 classics of fan fiction: The Music Destroyer, Guess Who, and Napoleon Dynamite in the Outer Space. This is accompanied by Beethoven's Concerto no 5 in E flat major.
Podcast: Play in new window | Download (Duration: 14:07 — 16.2MB)
Subscribe: RSS