2021-07-06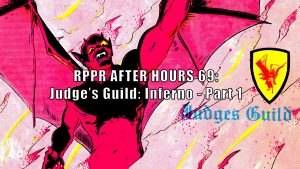 We have another preview episode of After Hours from the RPPR Patreon! If you enjoy this episode, consider backing us to help support this podcast. Episodes 70 ,71, and 72 continue our descent into Inferno.
Synopsis: We're going to Hell! Judge's Guild put out a module called Inferno in 1980, ostensibly based on Dante's Divine Comedy. It's a LOT. Caleb, Rob Stith (from the Orpheus Protocol) and Noah all followed me into this devilish scenario. We have so much to talk about that we are going to make a mini series of this journey as we could only get about halfway through the original module in this episode. There's also a 2014 remake of the scenario that completes the entire 9 circles of Hell!
If you liked this episode, be sure to check out The Mixed Six
The Orpheus Protocol
Thinking Too Hard About Anime
Podcast: Play in new window | Download (Duration: 1:10:43 — 48.8MB)
Subscribe: RSS
2021-06-21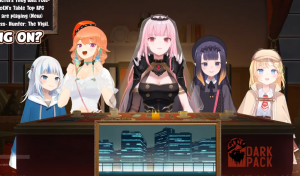 News: Check out Arkham Cold Cases on the RPPR Patreon! Episode 4 features Caleb as a guest and it's quite hilarious. Listen to a sample here. We've also picked a regular time for livestreams on the RPPR Patreon Discord – 6 pm CST on Sundays. Come hang out with us by joining the Patreon.
Synopsis: Over the last year, Shaun has become a fan of vtubers, a new type of performer on streaming services like Twitch and Youtube. They use custom face rig animation software to look like cartoon characters while they chat and play various games. Many vtubers have gotten into tabletop RPGs, Many vtubers are Japanese and their RPG habits are quite different. This article from Dicebreaker helps explain.
Shout Outs
Song: My Valentine has shiny eyes by Darkness
Podcast: Play in new window | Download (Duration: 48:41 — 33.7MB)
Subscribe: RSS
2021-05-28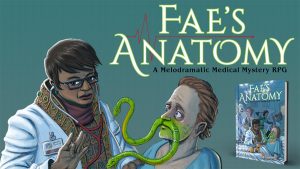 Caleb and I sat down to talk about his new project, Fae's Anatomy. It parodies the stories found in procedural medical dramas. Think General Hospital, Grey's Anatomy, M.A.S.H, or House. Only insane, because who needs realism? It mixes over the top melodrama role playing with cooperative puzzle solving. Caleb talks about the design process, preparing it for Kickstarter, and using online tools like Discord for development and community management.
It's currently on Kickstarter so check it out now.
Song: Pain Management by Zephyr Medical Group
Podcast: Play in new window | Download (Duration: 41:48 — 28.9MB)
Subscribe: RSS