2021-04-13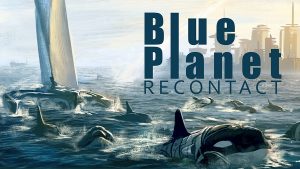 Jeff Barber recently spoke to me about his new project, Blue Planet Recontact. It's the new, updated, definitive edition of the classic science fiction roleplaying game set on the wild, frontier waterworld of Poseidon. Blue Planet is a compelling RPG journey into humanity's precarious future on a distant waterworld where political unrest and a hungry alien ecology threaten the nascent colony effort. '
Back Blue Planet Recontact on Kickstarter!
We talked about writing a new edition of the game, planning the Kickstarter, and the kind of work that went into it, from research to finding sensitivity readers. It was a great discussion and if you are thinking about running a RPG project on Kickstarter, this is the episode for you.
Get the Quickstart guide here.
Podcast: Play in new window | Download (Duration: 53:58 — 37.3MB)
Subscribe: RSS