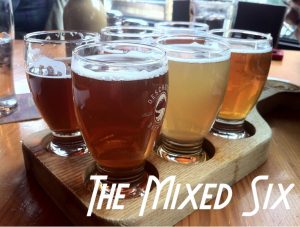 Welcome! Spencer, Caleb, and Producer Ross are trying something new. On The Mixed Six, we drink six beers and have six conversations. It's a variety show that slurs its speech, and we'd love to get some feedback on it.
Beer 1: Professional Drinking with Mother's Brewing Company's Imperial Three Blind Mice. Spence and Caleb talk about how this is all a tax dodge for their alcoholism.
Beer 2: Dissecting Our Fun with the Green Flash's Passionfruit Kicker. We geek out about the game Potion Explosion and the rarity of perfect information games
Beer 3: Armchair Director with Deshutes Jubeale. "Tis the season to argue about our Top 5 Christmas movies
Beer 4: Sportsplainer with Mother's Brewing Company's Backyard Wheat. Spence educates Caleb and Ross about field goal percentages at Mile High Stadium
Beer 5: Binge Binger with Boulevard's Snow and Tell We lay it all on the line and open up about our guiltiest TV pleasures.
Beer 6: Drunk Enough with Sierra Nevada's Narwhal. As fueling up for just such an occasion, Spence and Caleb discuss if it's even possible to defeat cognitive dissonance and how it's done.
Music: Below the fold
I can See it by DarkSunn
Siesta by Jahzzar
Islamatronic Cantillation by The Orientalist
Sorry by Comfort Fit
Autumn Woes by Ryan Little
Ghost Dance by Kevin MacLeod
Power Trip by Ryan Little
Podcast: Play in new window | Download (Duration: 1:24:14 — 38.9MB)
Subscribe: RSS