2021-08-25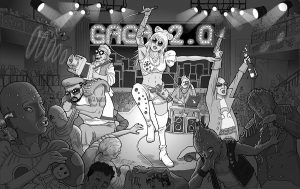 News: We're remastering classic actual play episodes of RPPR! If you want to listen to Lady Gaga 2.0 with improved audio quality, download the episode here. If you want to pick which classic episodes are edited, back the RPPR Patreon before September 6. We're running a special offer and I'll be adding more rewards to the offer during this time. If the special offer does well, I'll start remastering a lot of our episodes, including campaigns like Know Evil. Learn more on our Patreon post.
Listen to a clip of the original podcast with the remastered version here.
Synopsis: Gaming with the same people for years has its advantages and disadvantages. Aaron, Tom, and I discuss the differences between playing with regular friends versus new players. We also talk about how to avoid getting stale in long term game groups and how to add new players into groups.
Shout outs
Song: No Rave Shit by 2 Mello
Podcast: Play in new window | Download (Duration: 1:02:19 — 43.0MB)
Subscribe: RSS