2021-05-28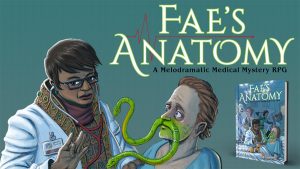 Caleb and I sat down to talk about his new project, Fae's Anatomy. It parodies the stories found in procedural medical dramas. Think General Hospital, Grey's Anatomy, M.A.S.H, or House. Only insane, because who needs realism? It mixes over the top melodrama role playing with cooperative puzzle solving. Caleb talks about the design process, preparing it for Kickstarter, and using online tools like Discord for development and community management.
It's currently on Kickstarter so check it out now.
Song: Pain Management by Zephyr Medical Group
Podcast: Play in new window | Download (Duration: 41:48 — 28.9MB)
Subscribe: RSS
2021-05-19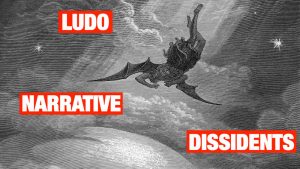 Ludonarrative Dissidents is a new podcast series from Ross Payton, Greg Stolze, and James Wallis. Check out the Kickstarter to help fund this project and get unique rewards!
In each episode, we plan to focus on a particular RPG, looking at its mechanics, setting, and everything else to see what makes this game tick. In this preview episode, we look at Apocalypse World, the RPG that launched a revolution in the indie RPG scene. We try to answer the following questions:

4) Why people play it that way.
If you want to hear more episodes,
help us get our goal for a season of six episodes
, with the games chosen by backers! We also have rewards for bundles of our games in PDF, a chance to play in an online game run by one of us, and get your game critiqued by us!
Podcast: Play in new window | Download (Duration: 1:20:04 — 55.3MB)
Subscribe: RSS
2021-04-13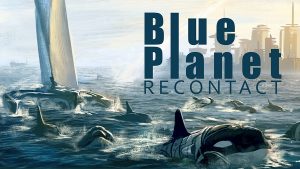 Jeff Barber recently spoke to me about his new project, Blue Planet Recontact. It's the new, updated, definitive edition of the classic science fiction roleplaying game set on the wild, frontier waterworld of Poseidon. Blue Planet is a compelling RPG journey into humanity's precarious future on a distant waterworld where political unrest and a hungry alien ecology threaten the nascent colony effort. '
Back Blue Planet Recontact on Kickstarter!
We talked about writing a new edition of the game, planning the Kickstarter, and the kind of work that went into it, from research to finding sensitivity readers. It was a great discussion and if you are thinking about running a RPG project on Kickstarter, this is the episode for you.
Get the Quickstart guide here.
Podcast: Play in new window | Download (Duration: 53:58 — 37.3MB)
Subscribe: RSS