2022-11-16
We're back for one more round with Synnibarr 3ED. Caleb, Thad, Baz, and I dive into the GM (or Fate in the parlance of Synnibarr). We're all guests in Raven's house, so find out what his wisdom for running a RPG is. What is the ADDA model? Why are there so many random tables? We'll try to unravel the mystery that is Synnibarr but we may find ourselves stranded on the Worldship…
Join the RPPR Patreon to listen to the full episode!
Caleb has Delta Green Dead Channels
Baz is on Twitch as FutureWolfington
Podcast: Play in new window | Download (Duration: 11:23 — 8.1MB)
Subscribe: RSS
2022-10-23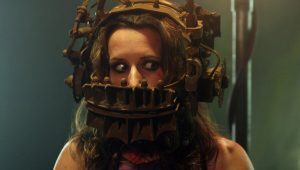 News: There's a horror video marathon on the RPPR Patreon Discord on Sunday October 30, starting at 3 pm CDT! Sign up for the RPPR Newsletter and get a FREE Monster PDF!
Synopsis: After watching the first 7 Saw movies in the last week, I realized that game design comes up in a lot in horror films. I got Chris and Aaron to talk about the franchise and other horror movies that intersect with game design topics. We mention Phantasm, Cube, Circle, Tremors, and a lot of other movies. A fun discussion just in time for the spookiest month of the year!
Shout Outs
Music: Floodlight DnB Aid for Flooding in Pakistan
Podcast: Play in new window | Download (Duration: 1:24:17 — 58.1MB)
Subscribe: RSS
2022-10-10
Making a player character for Synnibarr Third Edition is perhaps the most challenging part of the game. Baz, Noah, Thad, and I attempt to make a group of characters for the game and discover that do not perceive reality in the same way that Raven McCracken does. We do learn that you can technically mount a chain gun on a horse though.
Listen to the full episode on the RPPR Patreon. Join today to get more bonus podcasts, RPPR Illustrated, and access to our Discord server! Join at the $10 tier to play in RPG one shots I'm running.
Podcast: Play in new window | Download (Duration: 16:48 — 11.7MB)
Subscribe: RSS