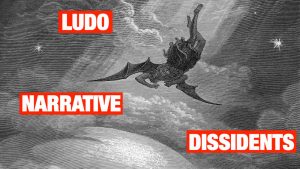 Ludonarrative Dissidents is a new podcast series from Ross Payton, Greg Stolze, and James Wallis. Check out the Kickstarter to help fund this project and get unique rewards!
In each episode, we plan to focus on a particular RPG, looking at its mechanics, setting, and everything else to see what makes this game tick. In this preview episode, we look at Apocalypse World, the RPG that launched a revolution in the indie RPG scene. We try to answer the following questions:

4) Why people play it that way.
If you want to hear more episodes,
help us get our goal for a season of six episodes
, with the games chosen by backers! We also have rewards for bundles of our games in PDF, a chance to play in an online game run by one of us, and get your game critiqued by us!
Podcast: Play in new window | Download (Duration: 1:20:04 — 55.3MB)
Subscribe: RSS