If you're a dedicated listener of our podcast, sooner or later, you run out of episodes. Waiting for the newest release can be agonizing! So, to help alleviate your suffering and create a way for you to show your support, we've created RPPR B-Sides. Every volume of B-Sides contains 10 or more Actual Play episodes and other never-heard-before content. Donate $20 to listen to each volume when it is released or wait until its public release.
These episodes will NEVER be posted on the RPPR Actual Play podcast. They will be released as a single bulk download once they are made public. B-Sides episodes will not interrupt the regular flow of new AP episodes.
Who says gaming can't be exercise? Lifting heavy games like Red Markets, Eclipse Phase, Base Raiders, and Zweihander can be quite the workout! In this volume of RPPR B-Sides, you'll find playtests of games in development, unique indie storytelling games and more. You won't get these actual play episodes on RPPR Actual Play. We record so many games that we can't fit everything on the podcast but for all you AP fanatics, here's your chance for even more! Buy your copy today!
Highlights of Gaming Gains include:
Ross' first time running Zweihander! The King of Poison features a cast of travelers stranded on a remote island run by an eccentric King who rules through fear and…mushrooms?? Learn the secrets of the island and see if the travelers escape!
Slingstone is a superhero-slaying game in development created by Caleb Stokes. In this two part game, based on a unique setting, a group of normal humans attempt to assassinate a powerful superhuman with nothing more than their wits and will.
Delta Green Castle Window is a scenario run by Tom Church about the secrets of an abandoned military research project from World War 2. Secrets buried in the desert are about to break out…
Derail is a fourth-wall-breaking storytelling game in development from Shaun Greenwald. Characters are aware they are in a movie and must use this knowledge to survive.
Honey Heist is a one page RPG about bears who steal honey. Caleb ran a group of us through a daring heist to steal haunted honey.
This volume of B-Sides will become a free download in February 2022. It took 2 years to gather enough games for this volume, so we are switching to a 2 year interval for future B-Sides volumes.
EPISODES ON VOLUME 5
RPPR-Alas-Vegas.mp3 – The first and only session of a failed Alas Vegas campaign. Alas Vegas is a full game with its own campaign built it, based on 4 players in 4 sessions, each rotating roles as GMs. Scheduling issues caused this campaign to fail.
RPPR-All-Part-of-the-Plan.mp3 – A playtest of a Profit system heist game.
RPPR-Base-Raiders-Criminal-Playtest.mp3 – Tom's playtest of a bank heist criminal game using the Base Raiders rules.
RPPR-Base-Raiders-Incorporeal-Body-Problem.mp3 – A Base Raiders game I ran for Jeff Barber and his friends.
RPPR-Conspire.mp3 – An indie storytelling game about creating a conspiracy.
RPPR-Delta-Green-Castle-Window.mp3 – Described above.
RPPR-Delta-Green-Playtest-in-Progress.mp3 – A playtest of a Delta Green scenario run by Dennis Detwiller. Recording begins after the game is in progress. Recorded at Gen Con a few years ago.
RPPR-Derail-Playtest1.mp3 – Described above.
RPPR-Derail-Playtest2.mp3 – Described above.
RPPR-Devil-John-Moulton-Lonesome-Valley.mp3 – Another run of this indie weird western horror RPG.
RPPR-Eclipse-Phase-Get-Lucky.mp3 – an Eclipse Phase 2E one shot I ran for some friends who were in town for a local gaming convention.
RPPR-Honey-Heist.mp3 – Described above.
RPPR-Lords-of-Undead.mp3 – a storytelling game I created. The rules are available on the RPPR Patreon.
RPPR-Red-Markets-Le-Corbusier.mp3 – A playtest of a Red Markets scenario.
RPPR-Red-Markets-Mass-Combat-Playtest.mp3 A playtest of mass combat rules for Red Markets. Run by Jason and played by Caleb and Ross.
RPPR-Skeletons.mp3 – A storytelling game about being undead skeletons guarding a tomb over the centuries.
RPPR-Slingstone-Playtest1.mp3 – Described above.
RPPR-Slingstone-Playtest2.mp3 – Described above.
RPPR-Tall-Pines.mp3 – A storytelling card game about a murder mystery in a small town in the Pacific Northwest.
RPPR-Zweihander-King-of-Poison.mp3 – Described above.
This volume of B-Sides actual play episodes focuses on Red Markets and Unknown Armies. We have two incomplete campaigns and multiple one shots as well.
Unknown Armies: The West Bottoms is set in Kansas City and focuses on a small cabal as it tries to separate a neighborhood from reality by drawing mystical boundaries around it.
Red Markets: Deception Pass is a two GM campaign set just outside Seattle. Multiple taker groups work as the government tries to reclaim an enclave.
We also have some games of 13th Age, Delta Green, Red Markets beta playtests, and Genlab Alpha.
By purchasing this volume, you help support RPPR and keep us running. Thank you for your support!
This will become a pay what you want product in June 2019.
Episode List:
RPPR-13th-Age-Stone-Thief1
RPPR-13th-Age-Stone-Thief2
RPPR-Delta-Green-Avatar-Wars-Gencon2017
RPPR-Delta-Green-Extraction
RPPR-Delta-Green-Observer-Effect-Gencon2017
RPPR-Delta-Green-The-Hunters
RPPR-Genlab-Alpha-Eve-Ascension
RPPR-Red-Markets-Deception-Pass-Episode02
RPPR-Red-Markets-Deception-Pass-Episode03
RPPR-Red-Markets-Deception-Pass-Episode04
RPPR-Red-Markets-Deception-Pass-Episode05
RPPR-Red-Markets-Deception-Pass-Episode06
RPPR-Red-Markets-Post-Beta-Playtest
RPPR-Red-Markets-Torus-GPNW
RPPR-Red-Markets-Vehicle-Playtest
RPPR-Unknown-Armies-West-Bottoms-Episode01
RPPR-Unknown-Armies-West-Bottoms-Episode02
RPPR-Unknown-Armies-West-Bottoms-Episode03
RPPR-Unknown-Armies-West-Bottoms-Episode04
Our third volume of RPPR B-Sides includes several (attempted) campaigns, including a 7 session Pathfinder campaign run by Tom! It also features a Fiasco game guest starring Thad, a game of the indie storytelling game Our Best Last Hope, and several Gen Con games. Purchasing this B-Sides volume helps support Role Playing Public Radio. It contains 20 episodes.
On May 15, 2017, it will become a Pay What You Want purchase.
Complete episode listing:
RPPR-Better-Angels-Gencon2013
RPPR-CoC-Black-Dream-Gencon2014
RPPR-CoC-DG-Eyes-Down-Gencon2013
RPPR-Dirty-World-Dr-Nova-Gencon2013
RPPR-Fiasco-LA-1936
RPPR-Mutants-Masterminds-RJ-01
RPPR-Mutants-Masterminds-Tom-01
RPPR-Mutants-Masterminds-Tom-02
RPPR-Mutants-Masterminds-Tom-03
RPPR-Mutants-Masterminds-Tom-04
RPPR-Our-Best-Last-Hope
RPPR-Pathfinder-Heroes-Cephais01
RPPR-Pathfinder-Heroes-Cephais02
RPPR-Pathfinder-Heroes-Cephais03
RPPR-Pathfinder-Heroes-Cephais04
RPPR-Pathfinder-Heroes-Cephais05
RPPR-Pathfinder-Heroes-Cephais0
RPPR-Pathfinder-Heroes-Cephais07
RPPR-Pathfinder-RJ
RPPR-Quiet-Year-2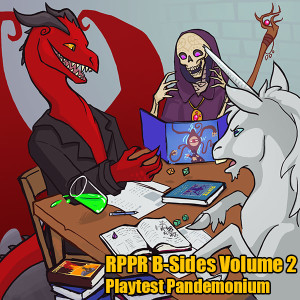 Volume 2: Playtest Pandemonium
Not every game we record at Role Playing Public Radio makes the podcast, but that doesn't mean you can't enjoy them. This volume features playtests for new games and scenarios, including Killsplosion, Call of Cthulhu scenarios, and our experiments with games like Fiasco, Dogs In The Vineyard and Fate Accelerated. We also have con games from Gen Con and Fear The Con. You get 24 never-heard before episodes altogether! Click here to download Volume 2 and help support this podcast.
This volume was released on December 16, 2015 for pay what you want.
Here's the complete episode listing:
RPPR-Base-Raiders-Taskforce-Darknet-Fear-The-Con2014
RPPR-Base-Raiders-Transit-Fear-The-Con2014
RPPR-Base-Raiders-Transit-Gencon-2014
RPPR-Better-Angels-Fear-The-Con2014
RPPR-Better-Angels-Gencon2014
RPPR-CoC-Beloved-Dead-Playtest1
RPPR-CoC-Bryson-Springs-Gencon2014
RPPR-Cthulhu-Dark-School
RPPR-Dogs-In-The-Vineyard-Partial
RPPR-Fate-Accelerated-Office-Narrative
RPPR-Kerberos-Club-Gencon-2014
RPPR-Killsplosion-Playtest2
RPPR-ToC-Bryson-Springs-Fear-The-Con2014
RPPR-ToC-Fall-Without-End-FTC-Fixed
RPPR-ToC-Fall-Without-End-Gencon-2014
RPPR-Zombie-Cinema-Fixed
RPPR-Base-Raiders-Transit-Gencon2014-Fixed
RPPR-Fiasco-Home-Invasion-Fixed
RPPR-Killsplosion-Playtest1-Fixed
RPPR-CoC-Unity-Version1-Fixed
RPPR-CoC-Divine-Fire-Version1-Fixed
RPPR-CoC-Unity-Version2-Fixed
RPPR-CoC-Divine-Fire-Partial-Fixed
RPPR-CoC-Divine-Fire-Version2-Fixed
RPPR-Fiasco-Town-Gown-Fixed
Volume 1: Release The Con Games
Description: The inaugural volume of RPPR B-Sides contains 20 Actual Play episodes from Gencon, Dragoncon, and a few home games. Classic scenarios like Delta Green: Night Floors or Sucrose Park vary tremendously depending on who plays in the game, not to mention how the dice roll. The home games include 5 Call of Cthulhu scenarios, one a a modern era investigation of a sunken city (featuring Cody!) and the other a Western pitting US cavalry against cultists of Yig, not to mention playtest games of homebrew scenarios and more. There's also a playtest of a chapter from Road Trip and our first ever recorded game of Teenage Mutant Ninja Turtles and Other Strangeness!
Volume 1 is publicly available.
Episodes in Volume 1:
RPPR-CoC-City-In-The-Sea.mp3
RPPR-CoC-Night-Shift-Dragoncon-2009-Game2.mp3
RPPR-CoC-Night-Shift-Dragoncon-2009.mp3
RPPR-CoC-Night-Shift-Gencon-2009-Game2.mp3
RPPR-CoC-Night-Shift-Gencon-2009.mp3
RPPR-CoC-Punitive-Measures.mp3
RPPR-CoC-Source-end.mp3
RPPR-CoC-bell-island-playtest.mp3
RPPR-CoC-firestorm.mp3
RPPR-MAOCT-Candlewick-Manor-Gencon-2009.mp3
RPPR-MAOCT-Pastoral-Manor-Gencon-2009.mp3
RPPR-MAOCT-Road-Trip-Oz-FTC-2010.mp3
RPPR-MAOCT-Sucrose-Park-Gencon-2009.mp3
RPPR-MAOCT-Sucrose-Park-Gencon-2011.mp3
RPPR-MAOCT-Sucrose-Park-Gencon-2012.mp3
RPPR-MAOCT-Sunny-Glade.mp3
RPPR-TMNT-Bad-Dudes.mp3
RPPR-WT-Age-Masks-Gencon-2009.mp3
RPPR-WT-Caped-Cannibals-Gencon-2011.mp3
RPPR-WT-Caped-Cannibals-Gencon-2012.mp3