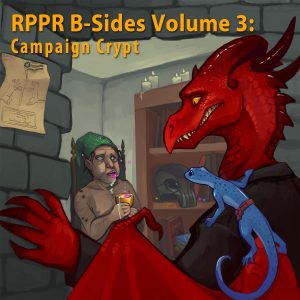 News: RPPR B-Sides Volume 3 is now available! Help support our podcast and get 20 actual play episodes, including Tom's Pathfinder campaign and a Fiasco game with Thad.
Thrilling Intent will have a livestream run of Tenra Bansho Zero on May 28 at 5 pm EST. Check out the details here.
Synopsis: Player characters develop relationships with other during the course of a campaign. They can help or hinder the campaign itself. Faust, Shaun, Tom, and I discuss how to build them in games and what kind of complications arise as a result. Keeping the narrative focused while balancing screen time between all players can be difficult. We also have shout outs and anecdotes!
Promo: The Redacted Files, an actual play podcast.
Shout Outs
Song: MAMAIA_2084 – Side A – She Used to Be Mine/Fresh Start  by MAMAIA_2084 & ~senpai vaporwave
Podcast: Play in new window | Download (Duration: 1:45:10 — 48.3MB)
Subscribe: RSS