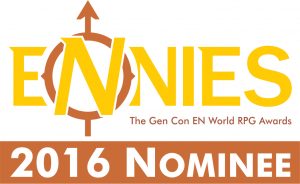 News: Please vote a 1for Role Playing Public Radio as Best Podcast in the 2016 Ennies Awards! Thank you for your support of this podcast.
Synopsis: RPPR will be at Gen Con this year in force! We have some great panels and other events lined up for you. Even if you can't make it, we will be recording a lot of content for future episodes. Our official events are:
Be sure to sign up for the RPPR Gen Con Announcement Groupme to keep track of the latest games and events. Jeff Barber of Biohazard Games will be there running demos of Upwind. If you want to schedule a demo with him, email him now to make arrangements.
Podcast: Play in new window | Download (Duration: 52:38 — 18.2MB)
Subscribe: RSS