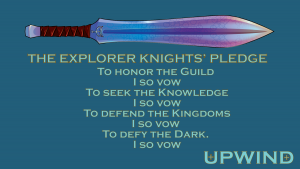 Sponsor: Upwind the fantasy RPG is now on Kickstarter! Back it today and help us reach a stretch goal so Ross can write a full campaign for Upwind.
News: Two new Base Raiders PDF supplements are out: Exemplar is a new villain and Glitched Reality adds new powers usable by any character.
Synopsis: Caleb and I discuss the lack of fantasy elements in many fantasy RPGs. It is very common for games like Dungeons and Dragons to gate truly fantastical elements like floating castles and alternate dimensions to higher level characters, as a kind of reward for playing the same character for so long. However, fantasy should not always be separated by player character power level. Why can't relatively mundane characters meet ancient dragons or explore castles floating in the sky? We discuss why this happens and how it can be changed. Also, an anecdote from our Base Raiders campaign.
Shout Outs
Songs: Chant of the Night Blades and the Price of Valour by Kai Engel
Podcast: Play in new window | Download (Duration: 1:38:06 — 33.9MB)
Subscribe: RSS