2022-04-05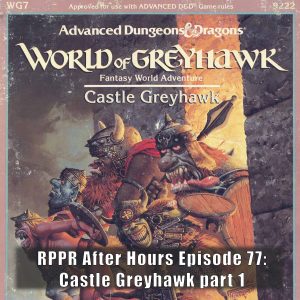 Castle Greyhawk (module WG7) might be the worst official D&D module of all time. A massive dungeon of 12 levels, each written by a different author, sounds like a great hack and slash module, but Castle Greyhawk has a twist. It's supposed to be…funny. Puns, pop culture references and other 'jokes' populate the pages of this adventure.
Podcast: Play in new window | Download (Duration: 1:25:32 — 59.1MB)
Subscribe: RSS
2022-03-09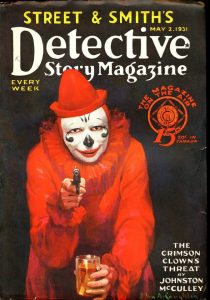 The public domain expanded this year and Caleb and I dive into it to find gameable material. Anyone can use these books, images, or music, for whatever project they can imagine. I found a list of characters from pulp fiction magazines with such interesting heroes like the vigilante Crimson Clown, and a group of French boy scouts who explore the hollow earth.
News: We're doing a weekly livestreams on Twitch and Youtube! The first episode is available publicly here. We'll be looking at RPGs on DrivethruRPG and other sites for the best and the weirdest. If you miss the livestream, the videos will be available for RPPR patrons to watch whenever you want.
Check out Caleb's Dead Channels Patreon for a Delta Green campaign, Insolent Impulse. I'm playing in it!
Shout Outs
Podcast: Play in new window | Download (Duration: 1:22:16 — 56.7MB)
Subscribe: RSS
2022-02-19
Quake 1 is an incredibly influential video game, not just to other video games, but to tabletop RPGs as well. We played Slipgate: Chokepoint recently. Now that we've re-played Quake 1 and a RPG inspired by it, Chris and I discuss the thematic and mechanical differences in translating pixels to a paper game.
(on a personal note – I plan to post more episodes here more frequently. The last few months were extremely hectic but now that the wedding is over, I can focus more on RPPR podcasting. I have a lot of great topics for upcoming episodes so stay tuned!)
Podcast: Play in new window | Download (Duration: 48:59 — 33.9MB)
Subscribe: RSS