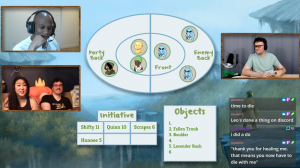 News: Night Clerk Radio is now available! Birk and I have created a new music review podcast focusing on vaporwave, dark ambient, and other haunted genres of music. Listen today on your podcasting app of choice or on Youtube.
Synopsis: Running and playing tabletop games online has become extremely popular lately so Birk, Kyle (from Best Pal Brigade featured in our episode art) and I discuss our experiences. There are many platforms to play games but choosing one is not the only challenge. Learning the differences between online and IRL games is essential to having a great time.
Promo: Thinking Too Hard About Anime, a new podcast from friends of RPPR!
Shout Outs
Song: Miles to Midnight. Listen to our review of the album on Night Clerk Radio.
Podcast: Play in new window | Download (Duration: 1:02:20 — 48.4MB)
Subscribe: RSS