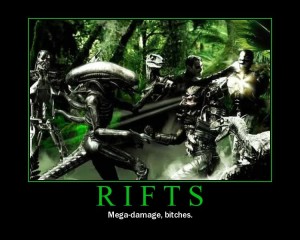 News: Check out the newest Story Bundle! My book, Zombies of the World, is one of the bonus ebooks you can get if you pay the average of $8 or more. The bundle also features F. Paul Wilson and other great authors!
I also wrote up a detailed post-mortem of my recent Call of Cthulhu one shot based on the indie video game, Hotline Miami.
Synopsis: I asked Tom what he wanted to do an episode on and he chose the Palladium game system. So here we are. After going over our history with the system, we go over the game, from its mechanics to the setting of Rifts. It's not pretty, but hopefully entertaining. Tom's letter is about Rifts of course, and we have shout outs, a listener letter, and an anecdote.
Shout outs:
Song: Multidimensional Consciousness by the Flavor Foundation
Podcast: Play in new window | Download (Duration: 1:43:34 — 71.1MB)
Subscribe: RSS