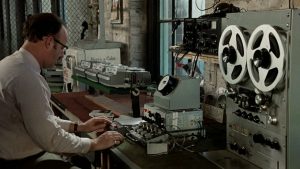 News: Please fill out the RPPR Survey so I can improve the quality of the RPPR Patreon. Thanks!
Synopsis: Thad and I both have ideas for scenarios. I got an idea for an investigative scenario (probably Delta Green) after I watched a series called Fear City. It focuses on the FBI's prosecution of the mafia in the early 80s and how wiretapping was a key component. So I thought why not build a scenario around wiretapping? Thad recently read a book called Strike about the history of labor organizing and thought that would be an interesting challenge for a Red Markets game. In this episode, we talk about our ideas and how to structure them as adventures.
Follow Thad's Twitter profile to keep up with his latest work, including his upcoming Twitch stream!
Shout Outs
Song: The Object by Gary Sevison
Podcast: Play in new window | Download (Duration: 1:27:25 — 60.3MB)
Subscribe: RSS