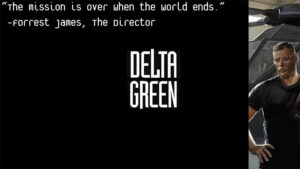 Delta Green is a popular horror RPG but it can be hard to understand how to get its tone or its procedural elements. Caleb, Jason, and I discuss some media to look at when trying to 'get' the Delta Green vibe. This is a preview episode of our new series on the RPPR Patreon, where we recommend media sources to inspire and inform for a particular genre or game.
Check out the entire Recommendizer series on our Patreon!
Check out Jason's Warhammer streaming on Twitch!
Caleb is running Delta Green on Dead Channels.
Some media mentioned on this episode:
Lovecraft's fiction – the inspiration for Delta Green.
True Detective Season 1 – what DG looks and feels like. Supernatural influence might be missable/explainable.
Occult America: Book on "esoteric undercurrents" in American history
X-Files – Monster of the Week, UFO mythology, government conspiracies and counter-conspiracies
To Live and Die in LA – procedural techniques and committing felonies to solve a case
Angel Heart – occult mystery/noir film. Great for atmosphere and tone.
The Spine Collector – long article on a book thief – the depths of which investigations go
FEAR – video game series mixing FPS gunplay with horror elements.
Extraction – the Netflix movie. Solid depiction of contemporary combat, both armed and unarmed, and ramifications of fighting in and against body armor. (Bonus points for showing the limitations and strengths of fighting with a karambit, for all those mall ninjas out there.)
Podcast: Play in new window | Download (Duration: 1:06:53 — 46.1MB)
Subscribe: RSS