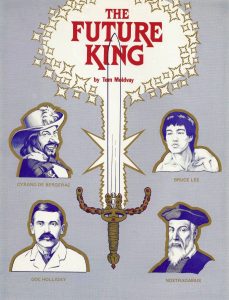 News: If you like this episode, consider backing the RPPR Patreon to get 4 years of After Hours episodes, plus early access to Actual Plays, and access to our Discord. I am streaming weird videos like my movie Motor Home from Hell!
Also, my book Zombies of the World, is now out!
Synopsis: Our listeners have been sending in some great review fodder, so Caleb reviews Cyberskelter, a scenario anthology for Cyberspace, the same RPG that was responsible for Death Valley Free Prison. I review part of the Future King, a batshit insane RPG/adventure that takes six very specific heroes from history to save King Athur.  We also discuss some Kickstarter-related topics, such as a certain con artist and the practicality of Chaosium's Horror on the Orient Express.
Podcast: Play in new window | Download (Duration: 1:51:02 — 76.5MB)
Subscribe: RSS