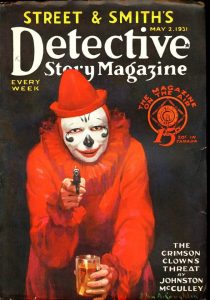 The public domain expanded this year and Caleb and I dive into it to find gameable material. Anyone can use these books, images, or music, for whatever project they can imagine. I found a list of characters from pulp fiction magazines with such interesting heroes like the vigilante Crimson Clown, and a group of French boy scouts who explore the hollow earth.
News: We're doing a weekly livestreams on Twitch and Youtube! The first episode is available publicly here. We'll be looking at RPGs on DrivethruRPG and other sites for the best and the weirdest. If you miss the livestream, the videos will be available for RPPR patrons to watch whenever you want.
Check out Caleb's Dead Channels Patreon for a Delta Green campaign, Insolent Impulse. I'm playing in it!
Shout Outs
List of public domain websites
song: The World is Waiting for the Sunrise
Podcast: Play in new window | Download (Duration: 1:22:16 — 56.7MB)
Subscribe: RSS