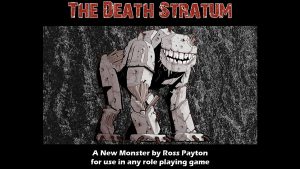 Designing new monsters for your RPG is a time honored tradition for most GMs. I got Greg Stolze and Caleb Stokes to talk about their approaches to creating new creatures for games. Is the monster a metaphor or just a weird new enemy to fight? Get some tips on becoming Dr. Frankenstein for your next game!
News: Caleb is running Delta Green on Twitch on September 28 at 6 pm CST. Follow the Delta Green Twitch channel to get notified when the game goes live. It should be fun!
Greg started a Patreon for his fiction. Sign up to get his latest works.
I'm starting a newsletter with original content, links, and updates for all my projects. Sign up below and get a free PDF of the Death Stratum, a new monster usable for any horror or fantasy RPG.
Shout Outs
Music: The Devil's Eyes by White Bat Audio
Podcast: Play in new window | Download (Duration: 1:05:05 — 44.9MB)
Subscribe: RSS